In stock
Beaker Bong
Free Shipping & Easy Returns
OR 4 payments of $
32.50
with
Learn more
---
The Freeze Pipe Bong
Glass on Glass Joint
Female Joint
Dry Herb Bowl Included
Beaker Shaped Base
Modular Bong
Multi Slit Diffused Downstem
Splashguard
Glycerin Coil
Modular
High Quality Borosilicate Glass
14mm Joint Size
Female freezable beaker bong
45º joint and removable downstem
Black borosilicate diffuser downstem
Laboratory grade borosilicate glass
Removable glycerine chill chamber
Modular design joint clips included
Removable bowl included
14mm female freezable beaker bong
32mm Modular attachment joint
straight neck
ice catcher
Product Description
Freezable Beaker Bong
Super chill hits from the Freeze Pipe Beaker Bong sets a new standard for cool AF water pipes! This exceptionally cool beaker features a premium design for a modular glycerine cooling chamber as well as premium materials.
A well-designed bong takes full advantage of excellent glasswork. Artisans use premium borosilicate to create delicate coils in the glycerine chamber. This durable glass makes for perfect fittings and a genuinely cool bong.
Premium Glass Design
The 14mm female Freeze Pipe Beaker Bong stands 12". It features a 45º joint, a removable black glass diffuser down the stem, a rounded mouthpiece, and a removable, oversized glycerine chamber to magnify the effects of the cooling coil. 
Scientific grade glass won't shatter, is inert, so it will never interfere with the flavor of the flower and is also easy to maintain for long life. This bong's modular design is held tight with provided plastic locking joint clips. The kit includes a matching dry herb bowl.
Tempered borosilicate is also very easy to clean. You can soak the sealed glycerine chamber in your favorite glass cleaning solution to get the interior coil, and the joint ends polished. These glass joints create an airtight seal when safely locked into place.
Double Duty Bong
Tempered scientific-grade borosilicate is more resistant to damage from extreme temperatures. Glycerine is an odorless, non-toxic gel-like substance typically made from palm, coconut, or soybean oils. It holds temperature well, used in ice packs for that reason. 
This Freeze Pipe Beaker Bong will be the star of your chill sesh, but it needs its buds to make your setup personalized! Check out other premium smoking accessories like herb grinders and lighters, or turn this into a dab rig with a premium banger nail.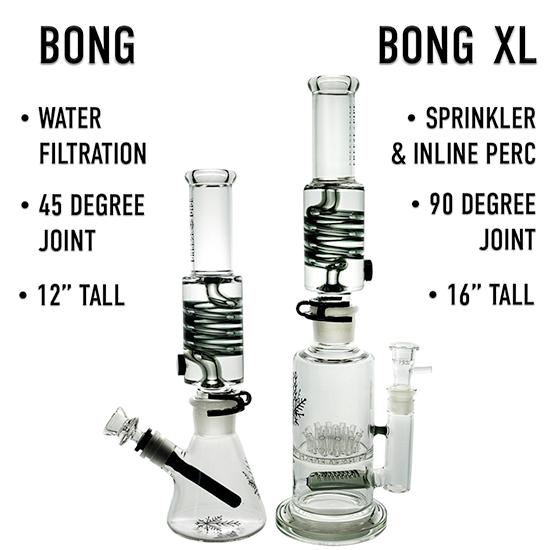 Product Specs
| | |
| --- | --- |
| Height | 12" |
| Length | 3.5" |
| Width | 3" |
| Glass Thickness | 3mm |
| Joint Gender | Female |
| joint type | Glass on Glass |
| material | Borosilicate Glass,Quartz |
Product Features
straight neck

Straight neck designs involve a neck branching vertically up into the mouthpiece from the chamber. They allow smoke or vapor to travel directly up to the mouthpiece

ice catcher

An ice catcher is a pinched place in the neck of the water pipe that allows the user to put ice cubes into the pipe. The smoke passes through the ice and is cooled for smoother hits

Translation missing: en.features.design_joint_clips_included.definition

Translation missing: en.features.32mm_attachment_joint.definition
Customer Reviews & Questions
Shipping & Returns
Free Shipping & Easy Returns
Order within
time
to ship by
day
Estimated Delivery: date to state via Free Shipping
Return Policy
DankStop is proud to offer the industry's most customer friendly return policy :) If you are unsatisfied with your purchase for any reason, you may file a return for unused items within 7 days of delivery. Due to legal liability, DankStop does not accept returns on items that have been used. You can contact our support team directly via live-chat, phone, or email at 1-844-DANKSTOP (326-5786) and support@dankstop.com.
Shipping Info
How much does shipping cost?

DankStop offers free USA shipping on all orders. In addition, you may choose to purchase expedited shipping (2-day, Overnight, etc) at checkout. International customers receive free shipping on orders over $300.

How long does free shipping take?

Free shipping is delivered via USPS or FedEx, and takes anywhere from 3-5 business days.

How long until my order ships?

All orders placed before 2pm EST ship out same day (Mon-Fri). Orders placed after 2pm ship the following business day.

Do you offer discreet packaging?

At DankStop, we completely understand our customers needs for discreet packing. For your privacy, all packages are shipped in unmarked brown or standard USPS Priority boxes with a return address of DS Distribution LLC. There will be no mention of DankStop on your package.
More From The Freeze Pipe
The Best Brands. The Best Prices. Guaranteed.
Our team of "cannaisseurs" personally tests and hand-curates every product featured in our store -- so, no matter what your preference, we the right right bong, pipe, dab rig, and accessories to fit your lifestyle! We're proud of our products, our service, and our prices. If you find a competitor selling one of our products for less, let us know -- we'll beat their price by 5%, guaranteed.